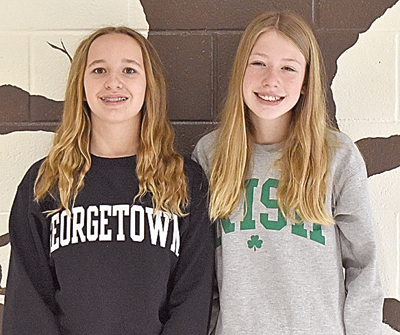 Suzanne Stewart
Staff Writer
When it was time to choose a science fair project, Marlinton Middle School sixth graders Julia Brown and Madeline Burns looked to their four legged friends for inspiration.
The two friends called their project "Dominant Paw: Are Dogs Lefties or Righties?" and tested to see if dogs tend to be more dominant with the left or right paws.
"We took our phones and recorded them in slow motion," Brown said. "We would throw a treat and they would either jump up to us first or they would go get it and we would see which paw they would step forward with first."
The girls tested three dogs – Brown's dog, Desmond, Burns' dog, Martha, and a friend's dog named Beethoven.
After several tests, the girls determined that two of the dogs were lefties and one was a righty.
"We did some research before we did the testing, and we found out that some dogs will copy their human's behavior and I predicted that my dog was going to be a lefty," Brown said. "I'm left handed and my dog turned out to be left paw dominant."
Burns' dog is a righty, like her owner, as well.
"I wasn't that surprised," Burns admitted. "I was just curious which paw they were more dominant with. I was kind of surprised that they really have a tendency to choose one over the other."
The duo won at the regional science fair, which led to them presenting the project at the state science fair in Charleston on March 6. The girls left the competition with second place in their category and division.
It was Brown's first time and Burns' second time competing at the state level.