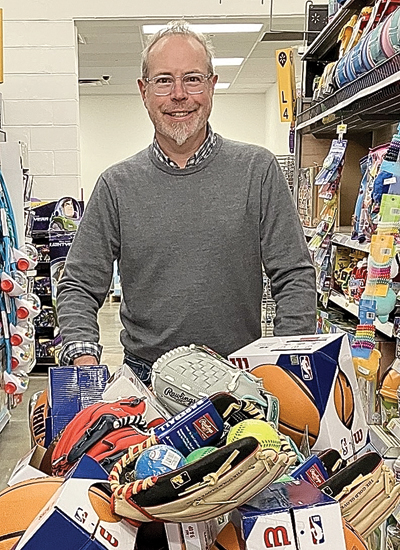 Suzanne Stewart
Staff Writer
Although he grew up on a farm near Glenville in Gilmer County, Dave Black spent most of his career working out of state in the software industry. He was looking for a change of pace and a way to return home to West Virginia when the Snowshoe Foundation executive director position opened up last fall.
"I was just sort of looking for a change of career, I guess, and a good reason to come back to West Virginia," he said. "When I heard the director's job was open, I expressed interest in it, and here we are."
Black took the position in September 2022 and is enthusiastic to be working with the foundation and the counties it serves – Pocahontas, Randolph and Webster.
"This is brand new territory for me," he admitted. "I have a business background. I worked in software for most of the last twenty years, and this is my fist experience at a non-profit. It's 'tiger by the tail' some days, but I really do enjoy it."
The Foundation hosts three major events – the Autumn in the Alleghenies dinner which was formerly held in the winter and known as the Ice Dinner, the golf tournament and Treasure on the Mountain, both of which are in the summer.
The funds raised during those events are turned into grants and scholarships.
"We have a grant cycle in the fall, which is for smaller grants up to $10,000 and we give away a significant number of those," Black said. "In the spring, in fact right now, we have a local scholarship program going on that we run. We offer scholarships up to $3,000 for local high school kids. They're not just for college; they're for any kind of continuing education, technical school, anything like that.
"We also have a spring grant program which we generally fund one, sometimes two, larger grants," he added. "So in the spring you can apply for a grant up to $20,000."
While this is Black's first time working with a non-profit, he has attended several of the Foundation's events in the past, so he knew what he was getting into when he took the job. It can be hectic at times, especially on the day of the big events, but Black said he is really enjoying his role with the organization.
"I really enjoy every day," he said. "I enjoy seeing what the foundation is able to do in the community and I really enjoy being a part of that. I think we do a lot for a small town in West Virginia, and we know what people struggle with and how much need there is for stuff in our communities, so it feels great to wake up every day and go to work, and be a part of some good things going on in those communities."
The foundation is operated by Black and a board of directors, but it also takes a lot of volunteers to help with the fundraisers. Along with needing volunteers to set up and work the day of the three major events, there is also a need for volunteers to help sell Treasure on the Mountain tickets.
"We always need volunteers," Black said. "There are things that people in the community can do. One good example is selling Treasure on the Mountain tickets. We have a ticket partner program so if you sell our tickets for the organization, you can get a commission for every ticket you sell and fundraise for your organization."
Black welcomes any and all community members who wish to help with the Foundation's events, saying that donation of service is just as important as monetary donations.
"I certainly would like people to know that we're a very inclusive organization, and there's plenty of opportunities to get involved," he said. "We welcome all comers."
For more information on Snowshoe Foundation, visit snowshoefoundation.org