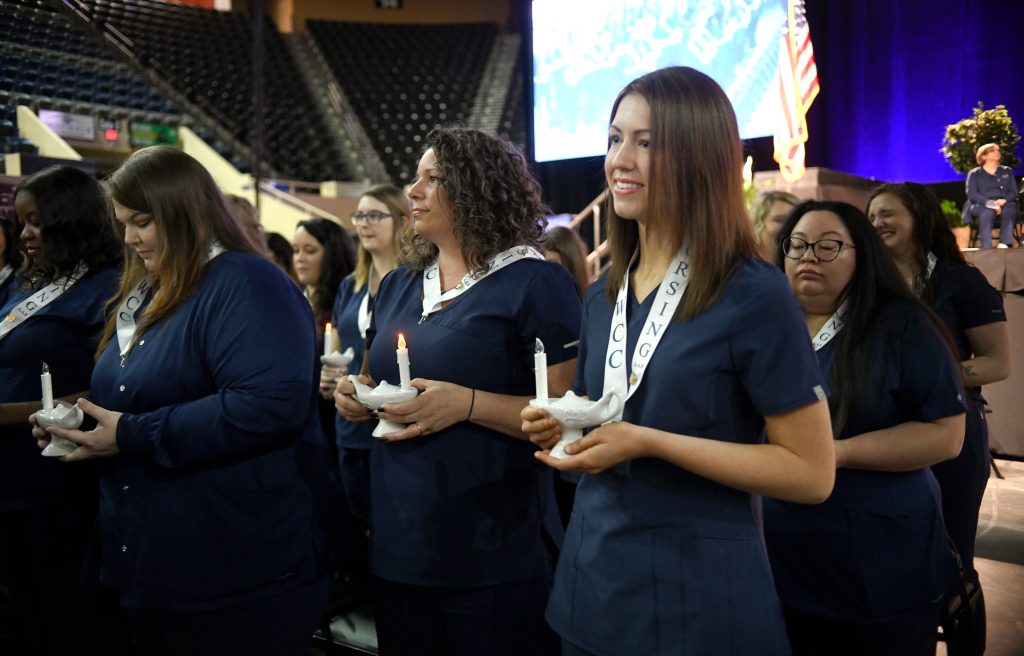 ROANOKE – Teamwork is an essential piece of healthcare for patient treatment, but it's also the key ingredient to get registered nurses in place to care for them.
Virginia Western Community College's Nursing Program leaned into teamwork when facing problematic pass rates on the NCLEX-RN exam, and assembled a model coaching program in 2022. This template is currently assisting this year's graduates, who are taking the exam this summer. 
Results were beyond expectations, the college said, when 96.83% of the 2022 Nursing Program cohort passed on their first attempt, compared with a national benchmark of 77.91%. Of Virginia Western students testing in the April to September 2022 period, 100% passed on their first attempt.
"This is what happens when you've got a solid plan, that's bought in on every level, so it's administration, the faculty, and the students – everybody's pulling together and believes in this plan," said Virginia Western Director of Nursing Lauren Hayward. The success is even more remarkable amid the immense disruptions of COVID.
When commencement rolls around each spring, most students are ready to be free and start their new lives. But for students in the Associate of Applied Science in Nursing Program, Hayward explained, the time immediately after graduation is crucial – and their work is far from complete. "It's a really intensive six to eight weeks," she said. Many have started onboarding with employers, but they must pass the National Council Licensure Examination to become registered nurses.
Nursing programs must see 80 percent or higher of graduates pass the NCLEX on first attempt. After three years below this mark, a program can lose approval. Virginia Western's pass rates for 2020 and 2021 were each below that, at 79.66% and 78.00%, respectively. 
Previous to this, Virginia developed a common, concept-based curriculum that took a decade to implement. About 80 percent of the state's programs, including Virginia Western, launched the curriculum in 2018. The first students to progress through the program graduated in 2020 – right as COVID hit. As the pandemic wore on in 2021 and disrupted the availability of clinical rotations, the program stayed below the mark – and so did the national average.
Hayward said she and her faculty remained focused. "We came up with a five-point plan that focused on student success. We changed resources, a really in-depth curriculum review – not just evaluation, but changed items, re-emphasized content where they were testing low," she said. 
Marilyn Herbert-Ashton is dean of nursing in addition to her role as vice president of institutional advancement for Virginia Western. "The nursing faculty took a deep dive in reviewing testing policy, transfer policy, curriculum revisions and the one area that they really tweaked, with concept-based curriculum, was really leaning into pharmacology," she said. "Pharmacology requires an understanding of how the drug works, its effects and how the body utilizes the drug. Nurses must be able to evaluate a patient's condition before administering medications and the patient's response after receiving the medication."
This attention to minute detail reaped results in the April to September 2022 testing period. In almost all content areas, especially Pharmacologicial and Parenteral Therapies, Virginia Western students taking the NCLEX from April to September 2022 placed in a higher national percentile rank than students taking the test from the same period in 2021.
Previously, students received NCLEX prep materials, but the decision to use them was up to each person. "I created the coaching role after 2021, because so few people completed the NCLEX prep," Hayward said. Creating a student-faculty partnership that would endure after a student graduated became a multi-layered, intense effort.
"We want to walk hand in hand with students – we can't do their work, they can't do ours, but there's a synergy between those two roles for both sides to be successful," said Hayward.
All nursing faculty were engaged in five different areas of the curriculum that had shown student weaknesses, and four also took on coaching roles: Joe Nguyen, Darla Summers, Kathy Smith and Hilda Taylor.
"We started implementing a lot of standardized testing as we went along to identify areas that they were weak in," Taylor said. "But it really didn't come to fruition until last summer, when Lauren found funds to support the faculty working over the summer to coach specific students."
Coaching starts in the students' fourth semester. Faculty members gave a lot of credit to Summers, who created an NCLEX test prep binder for students that included dates for preparatory testing they needed to complete. "We use Kaplan resources, so over their two-year enrollment in the program, they take between 10,000 and 15,000 NCLEX-style questions," said Hayward.
Smith tracks data for how the cohort is succeeding in the progressive Kaplan testing program. "Before, I'd call someone up and say, 'Have you done this?' and they'd say, 'No, I'm too busy with work, no,' but now, they've got target dates – they've got goals. It's a very intense plan, and there's something to do every week," Smith said.
Familiarity with the testing style has an impact. "What I try to tell the students is that anxiety comes from feeling unprepared, a lot of times, when it comes to high-stakes testing. And when you feel more prepared, naturally you have less anxiety," Nguyen said. 
Kara Gerenser, an RN and member of the 2022 Nursing Program cohort, agreed that this approach made a difference. "Graduation came with a lot of conflicting feelings. It was an enormous relief to be done with school but then we had to face the daunting task of prepping for the NCLEX."
The preparation integrated in the program paid off. "I thought I would feel more nervous, but I believe our faculty really prepared us long before graduation. Mrs. Smith pushed our Kaplan resources from the first day of nursing school, and I think that helped me prepare the most. Each practice test I took or prep video I watched made me more and more confident that I had everything I needed to be successful," Gerenser said.
Summers said she tells her students, "'I know this feels like torture, but it will be worth it in the end.' We do have their best interests at heart – it's not just busy work."
Each student is assigned a faculty coach and is part of a group that keeps in touch before and after graduation with the Remind app. "The app we used was helpful because it was an easy way to stay connected and we got a notification every time someone in our group passed," Gerenser said. "I think that gave us the confidence boost we needed as we got closer and closer to our individual test dates."
As students progress through the NCLEX prep plan, coaches determine when they have a "green light" to schedule their exam. 
"To me it says a lot that you have faculty that are willing to work with students that's not a mandatory course, side by side over the summer," Summers said, noting that it's an investment made by both parties. "Students are thankful for that, because we genuinely care about them."
Now, a year later, Gerenser is an RN in the operating room at Carilion Roanoke Memorial Hospital. "I honestly wouldn't be where I am today without every single one of the faculty members of the nursing program or the people in my cohort," she said. "Starting nursing school in the middle of a pandemic was extremely difficult and stressful and a little bit crazy. But we weathered the storm together and came out stronger because of it. It's amazing to see these people living their dreams as nurses, and I am endlessly thankful that I got to go on this journey with them."
-The Salem Times-Register