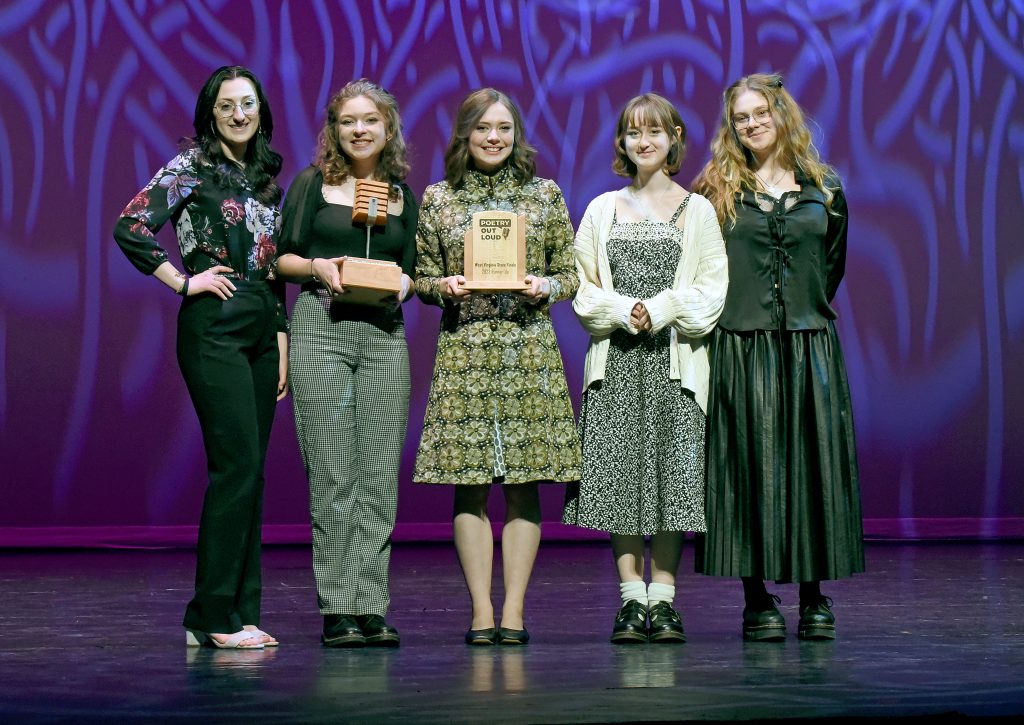 By Matthew Young, RealWV
Lauren Rodgers strolled on stage at the Norman L. Fagan Theatre in Charleston with the poise and presence of a performer twice her age, and commanded the attention of everyone in the room.
And what did she say to the audience?
"Starspangled cowboy, sauntering out of the almost-silly West,
On your face a porcelain grin,
Tugging a paper mache cactus on wheels behind you with a string…"
But it was more than just the words of Margaret Atwood which Lauren spoke that had the audience's attention…
Along with 43 other high school students from across West Virginia, Lauren competed, on Mar. 11, in the 18th annual Poetry Out Loud State Finals. And although the competition reached its crescendo that day in the state's capital, it began in local high school classrooms several months earlier.
As explained by the WV Dept. of Arts, Culture, and History, "Poetry Out Loud is a national contest, a joint project of the National Endowment for the Arts and The Poetry Foundation, in which high school students memorize and recite poetry for an audience."
With the guidance and support of 153 teachers, more than 4,800 students participated in local competitions at 46 West Virginia high schools. The winners of those local competitions – including Lauren, a senior at Greenbrier East High School – then advanced to the State Finals.
"I've been involved in the program (Poetry Out Loud) since my freshman year," Lauren said while speaking with RealWV. "I was involved with the theatre, and it was a big deal to try out and participate."
That background in theatre served her well while preparing for this year's state finals. Lauren reached out to former Greenbrier Valley Theatre instructors Cathy Sawyer and Courtney Sussman for recitation guidance.
"I can't thank them (Sawyer and Sussman) enough for their mentorship and wisdom," Lauren said.
Lauren explained that participation in the Poetry Out Loud program has helped her to build confidence, as well as develop public speaking skills.
"It's also helped me to develop a deeper understanding of different pieces of writing," Lauren added. "Different cultures, different styles of writing, different authors – it's a very eye-opening experience."
Lauren spoke of the impact that the COVID-19 pandemic had on the previous two annual competitions, saying, "My sophomore and my junior year were both virtual, so competition was done through video."
Lauren said that competing virtually "did not resonate" with her, because it minimized the performance aspect. For Lauren, as well as every other participant, the stage serves to both embolden the performance, and facilitate a connection with the audience.
"Even though I had all these takes to do it over and over again, it just didn't work as well for me," Lauren explained.
Under the guidance of teachers Kallie Cochran and Celia Moore, Greenbrier East High School began preparing for the state finals back in January. Each of the 42 participating students were provided with a list of pre-selected poetry, of which they were instructed to select two. After two rounds of competition, Lauren was selected to represent her school in the state finals.
"When picking a poem, it's really important that it resonates with you," Lauren said. "Surprisingly, Emily Dickinson's 'I Heard a Fly Buzz – When I Died,' was probably my favorite [that I performed]. It's just really powerful, and her (Dickinson) writing style is super interesting."
Lauren, who finished the competition in the top five of all West Virginia competitors, praised the performances of both Willow Peyton of St. Mary's High School, and 2023 champion Morgan Sprouse of Bridgeport High School. Sprouse's victory makes her a back-to-back champion.
While the performance of spoken-word poetry can be intimidating to many, to interested students considering participation, Lauren says, "Do it!"
"Poetry, and poetry recitation is one of the most vulnerable and meaningful performances you can give," Lauren added. "Even though it feels ridiculous sometimes, it's so worth it. It will teach you so much about yourself and what matters to you."
When our young people embrace poetry, they become the horizon we ride towards, and the thing we can never lasso. As the state's repeat champion, Morgan Sprouse is now invited to represent West Virginia at the National Championships in May. Lauren, as well as the rest of West Virginia, will certainly be cheering her on.