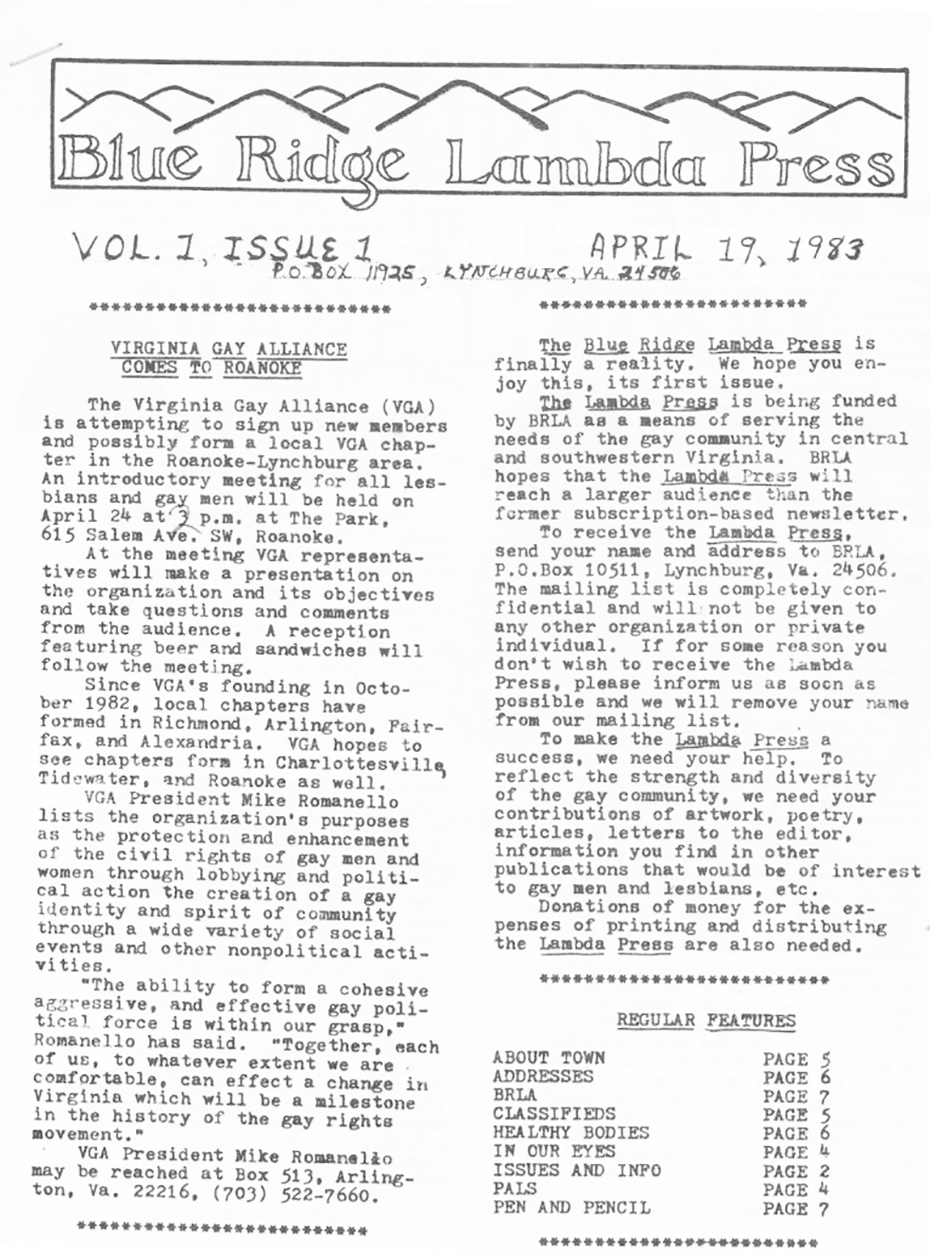 The Southwest Virginia LGBTQ+ History Project, in a major initiative spearheaded by Roanoke College researchers, has completed the digitization of the region's longest-running historical gay newsletter, the "Blue Ridge Lambda Press."
For the first time ever, Virginians now have digital access to the full run of the historic newsletter. The Blue Ridge Lambda Press was published for 25 years, from 1983 to 2008, comprising 26 volumes, hundreds of issues, and thousands of pages of Virginia LGBTQ+ history.
The newsletter reported news about and representing the LGBTQ+ community in Southwest Virginia. The entire digital collection is available on JSTOR. 
"This is a remarkable achievement. Digitization is a long process, involving multiple partners – in this case including Roanoke College and the Roanoke Public Libraries," said Dr. Samantha Rosenthal, associate professor of history and co-founder of the Southwest Virginia LGBTQ+ History Project. "Volunteers ranging from local high school students to national graduate students have participated in the digitization, but the great bulk of the work was completed single-handedly by Roanoke College student Megan Reynolds. Her work on this project has been meticulous and absolutely remarkable."
Megan Reynolds, a member of the class of 2023, has served as the undergraduate research fellow with the Southwest Virginia LGBTQ+ History Project since her freshman year in 2019. "The digitization of the "Blue Ridge Lambda Press" was the longest, ongoing project that I worked on in my four years with the History Project, which I find synonymous with the long run the newspaper itself had," she said. "As I spent hours scanning and uploading each individual issue, I had the opportunity to read every single page and to learn about anything and everything that was happening in the region's queer community during that particular time. Knowing that my work to make the "Blue Ridge Lambda Press" more accessible to the community will benefit future researchers and community members is why I do what I do."
For nearly two decades, Tommy Feazell was a frequent contributor to the "Blue Ridge Lambda Press," which was also known in the gay community as the 'Pink Pages' due to the newsletter's bright pink coloration. He authored a monthly column under the name "Willie Waltzer" as well as provided illustrations for local events and flyers. Regarding his time working on the newsletter, Feazell said, "My proudest accomplishment with the Pink Pages was writing my 'Willie Waltzer' column. Writing about gay dating etiquette, life adventures, notable events in 'the life,' all for a total of 15-20 years."
"It was an honor to reach out to my brothers and sisters in Roanoke and beyond," he said. "So many memories, joys, and heartaches, too. The Pink Pages became a major lifeline for our gay community in the mountains of Virginia."
-The Salem Times-Register